Larchmont-Mamaroneck Local Summit
hosted a meeting on STEM Initiatives, addressing the growing imperative around STEM education for cognitive development as well as longterm economic viability. The guest speakers were
Superintendent of Schools Dr. Robert Shaps
and
STEM Alliance President Margaret Käufer
. Here's a link to the STEM Alliance presentation for those who couldn't attend:
"WHY OUR KIDS NEED STEM NOW" PRESENTATION
It's Official: MHS Students Named 1st Place Winners at NYU-Poly's Competition!

From MHS Tiger Tracks, June 2014: Although no awards were initially given out at NYU Polytechnic School of Engineering's Innovention competition last month, organizers have now informed us that our Mamaroneck High School team of Peter Solimine, Yi Zhao, and Hector Gatica -- mentored by Mr. Jadav (our MHS Computer Science and Robotics Teacher) -- officially came in 1st Place over 2nd Place winner Park Place Academy and 3rd Place winner Stuyvesant High School. MHS competed among 9 schools that were selected to present 12 projects. The Innovention competition challenges students from across the globe to prototype and pitch commercially-viable ideas for real world problems. Our students had been working for many months to develop a computer program that helps strengthen quarterbacks' rapid cognition and motor response and ultimately enhance their game. They've filed a provisional patent for this idea and will continue to build and improve upon it. Upon their invitation, Peter will join NYU's Summer Launchpad program at the Varick Incubator for a 10 week intensive program for NYU graduating seniors to take their ideas and turn them into sustainable and scalable ventures. Peter will be the only high school student among these graduating NYU-Poly seniors.
25 Mamaroneck Students Compete in WESEF & 19 Are Winners!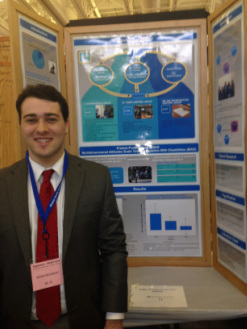 On March 16, 2014, 25 Mamaroneck High School Students who participate in Mamaroneck High School's Original Science Research ("OSR") program competed in the Westchester - Putnam Science and Engineering Fair. The students had diverse projects in many fields of research, including the behavioral science, environmental science, medicine and health and computer science. Mamaroneck had 19 students who won awards this year including: 1st Place:- Bradley Pogostin for Medicine & Health, Bisna Naqvi - Behavior; 2nd Place - Adam Nissinoff (pictured left) - Behavior, Simone Van Taylor - Behavior, Emily McCarthy - Medicine & Health, Max Schecter - Medicine & Health, 3rd Place: Margaret Zimmer - Behavior, Surin Ahn Computer Science, Emily Gerszberg - Medicine & Health, Holden Greenberg - Medicine & Health and Moni Kaneti - Medicine & Health; 4th Place: Carolyn Koestner - Animal Science, Caroline Weisstuch - Environmental Science. We congratulate the winners and all of the MHS students who participated - you have all made us proud! A full list of the WESEF winners may be found
here
. We are so fortunate to have the leadership of teacher Guido Garbarino as the head of the OSR program and his assistant Chris Ward.
---